This course sim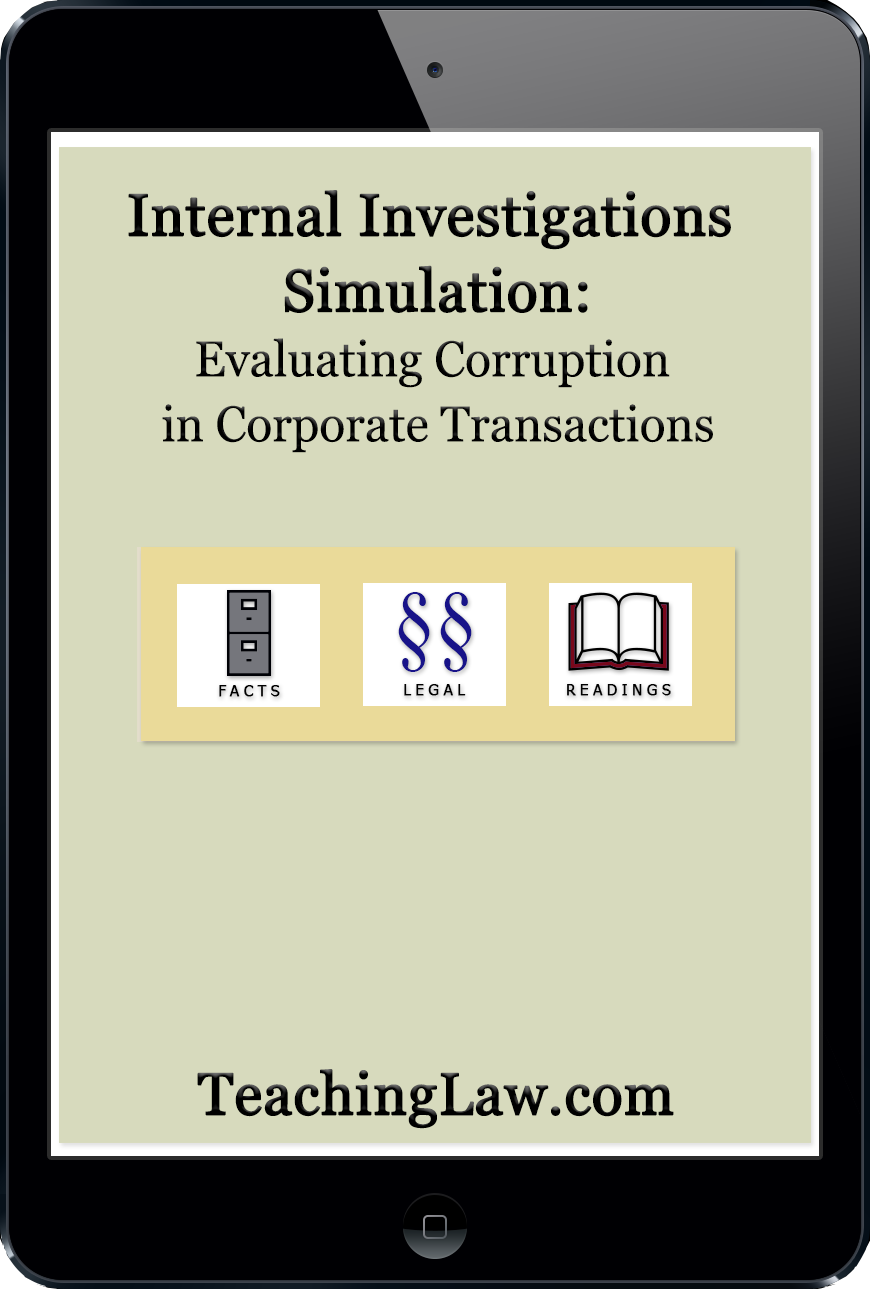 ulation textbook involves an internal investigation at Santé, S.A., a French pharmaceutical company that issues U.S. securities. During a routine audit, troubling information has come to light. Employees of Santé have made certain payments to a charitable entity in Lesotho, Africa that may qualify as bribes for purposes of the U.S. Foreign Corrupt Practices Act ("FCPA"). Consequences of violating the FCPA can be severe; to mitigate risks and decide on a course of action, Santé must better understand the potential FCPA exposure it faces (if any).
That's where students in the course come in. Acting as outside counsel to Santé, students investigate this situation by interviewing Santé's chief compliance officer and the area supervisor for Africa, who authorized the payments. Then, students analyze the facts they have discovered to determine whether there is potential liability under the FCPA. When students have completed this analysis, they report the results to the general counsel of Santé and assist in formulating strategies to remediate any potential violations. 
This course textbook provides background reading on the Foreign Corrupt Practices Act, a skills primer on interviewing a witness and counseling a client, and fact documents on the Santé case. The FCPA reading is designed to help students understand the statute and provides a particular focus on elements of the FCPA implicated by the Santé problem. The skills primers walk students through the basics of interviewing a witness and counseling a client, including ethical issues that may arise in either situation. And the fact documents provide students with some relevant information about the problem they face; they need to do more fact-gathering throughout the course to fill in the gaps that remain.
By participating in this highly dynamic and realistic course, students will not only learn about statutory interpretation and the role of the FCPA in corporate transactions, but they will have the opportunity to develop essential lawyering skills, including fact development and analysis, interviewing, counseling, teambuilding, project management, and problem-solving.